With the recent announcement of comics coming back at the end of the month, there's still more campaigns worth supporting until then on Indiegogo and Kickstarter.
From a heroine inspired by a convention event to continuing series focused on Humanoid Unicorn soldiers in a post apocalyptic wasteland or an Expendables inspired franchise, there's a lot to love going on in the world of crowdfunded comics.
Loco Hero (Kickstarter)
From regular contributor to the Lady Death franchise and all around well known cover artist, Monte Michael Moore (M3), Loco Hero tells the story of a homeless war vet turned vigilante.
As a series, this is Moore's first foray into creating his own content, besides the covers he already creates for various companies. We're also getting a unique story because while it brings the cool and sexy aspect of heroes to the forefront, it also covers PTSD, loss and trauma too.
More is creating something that if successful, will bring about a new way to enjoy and appreciate his works, while also giving us a story we can't find elsewhere. Seeing a strong female character with modern flaws that are prevalent and brought to the forefront of the series will add a dynamic that i'm both intrigued and excited to read about when this campaign ends.
M3 already creates some of the best covers in modern comics and I can't wait to see how his writing turns out to and if he's able to successfully tell a story whose plot and character developments sound hit or miss.
Sugar POP 2 (Kickstarter)
Still Ill Princess's Dan Mendoza continues with the sequel to his spinoff from Sad Girl Psycho Baby, as we learn more about the life of Sugar Pop. With a personality reminiscent of Bubbles in Powerpuff Girls at times, Sugar Pop was a unicorn that got turned into a soldier by an alien race.
In the newest chapter she'll encounter one of her old allies, Soda.
Compared to his flagship series, Sugar Pop showcases a new side to the supporting character and in the first issue, Mendoza had two short stories about the characters life. In the first story, we got the cliff notes on how Sugar Pop became who she is and got her humanoid form.
Afterwords, we learned about her love interest.
With more backstory in this coming issue, it'll help to solidify one of my favorite character in Mendoza's series. I love everything about this Unicorn soldier character and seeing how she reacts in various situations. She's so much fun to be around and hear about in the stories that I can't wait to see what Mendoza has planned next for her.
Jawbreakers: Grand Bizzare (Indiegogo)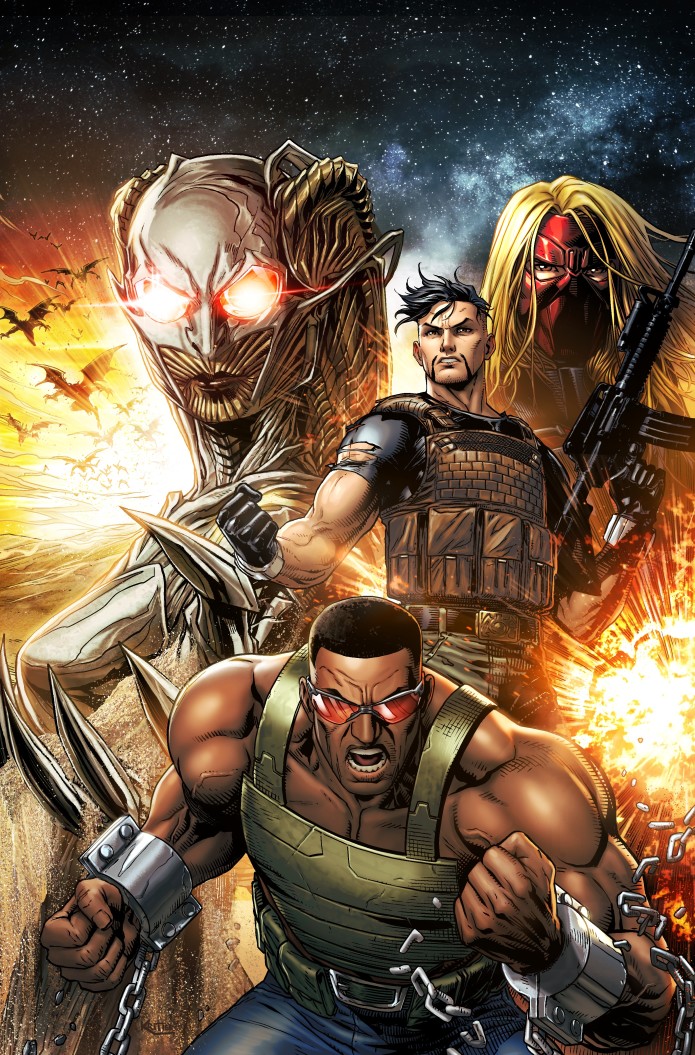 Ya Boi Zac of Splatto comics and the former, Diversity&Comics, YouTube channel recently announced the third issue of his flagship series.
With the large amount of love for his previous two issues, this third installment is worth reading, and he even has tiers that give you a copy of the 2nd issue, so that you can catch-up on some previous story elements.
A series inspired by The Expendables, Jawbreaks features a number of soldiers as they fight different foes.
Unlike the previous issues though, This issue will give us a larger backstory as to how the team met and formed. With such an important issue in the series, this is a can't miss issue to support.
I love it when series get more in depth with flashback issue done right, and seeing how successful this series has been, I can't wait to see how he builds up these characters further.
Another great aspect is how it was recently hinted at that a larger character is making their appearance in this issue, someone we've yet to see but had clues about in the previous issues.
Seeing how this shapes up for the flagship series makes me that much more excited about what's to come.
If you love X-Men or Expendables or the previous issues, you'll not want to miss what will become a large event for fans of crowdfunded comics.